Preventing Toe Jam
Tuesday, 16 August 2022 00:00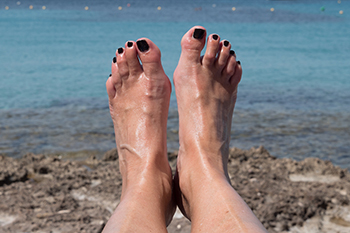 Maintaining proper foot health is a necessary component of looking after your overall wellness. Therefore, every individual who is serious about protecting their wellness ought to practice every day or regular foot care routine. Your routine might include properly clipping your toenails, giving yourself a foot bath, and applying a moisturizer to your feet. One step you may consider adding to your everyday foot care routine is being diligent about cleaning the space between each of your toes. It is important to regularly clean this often neglected area because toe jam may accumulate in this space. Toe jam is a substance composed of a mixture of dead skin cells, sock residue, and dirt. Although toe jam does not usually present a significant health risk to individuals, it can be dangerous for people with underlying conditions such as diabetes. Also, toe jam is generally an unsightly and potentially odorous affliction. To practice good foot hygiene, consider putting yourself on the lookout for the buildup of toe jam between your toes. If you incorporate a foot bath into your routine, be sure to pat your feet dry completely after the wash. Contact a podiatrist for more tips and tricks about your everyday foot care routine.
Everyday foot care is very important to prevent infection and other foot ailments. If you need your feet checked, contact Gregory Rorick, DPM from Rorick Podiatry, PC. Our doctor can provide the care you need to keep you pain-free and on your feet.
Everyday Foot Care
Often, people take care of their bodies, face and hair more so than they do for their feet. But the feet are a very important aspect of our bodies, and one that we should pay more attention to. Without our feet, we would not be able to perform most daily tasks.
It is best to check your feet regularly to make sure there are no new bruises or cuts that you may not have noticed before. For dry feet, moisturizer can easily be a remedy and can be applied as often as necessary to the affected areas. Wearing shoes that fit well can also help you maintain good foot health, as well as making it easier to walk and do daily activities without the stress or pain of ill-fitting shoes, high heels, or even flip flops. Wearing clean socks with closed shoes is important to ensure that sweat and bacteria do not accumulate within the shoe. Clean socks help to prevent Athlete's foot, fungi problems, bad odors, and can absorb sweat.
If you have any questions please feel free to contact our office located in New York Mills, Utica, NY . We offer the newest diagnostic and treatment technologies for all your foot and ankle needs.
Read more about Every Day Foot Care