The Link Between Obesity and Foot Pain
Tuesday, 19 July 2022 00:00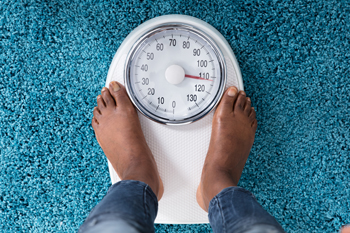 Just like any other medical disease or condition, foot pain is associated with several risk factors. This is to say that carrying a certain attribute makes one more likely to suffer from foot pain. For instance, pregnant women and arthritic individuals are at a higher risk of experiencing foot pain. One often overlooked high risk group is obese individuals. Once one's body mass index has increased, the incidence of plantar heel pain increased. Likewise, fat mass is positively correlated with foot pain. Obese individuals are also more likely to have flat feet as well. This is likely the case because obese people place more weight and force down onto their feet, pushing down any natural arch so that the entire foot lays flush against the ground. If you are obese, you can reach out to a podiatrist to assist you with any foot pain you might have.
The more you weigh, the harder your feet must work to support your body. If you're an obese individual and are concerned about your feet, contact Gregory Rorick, DPM from Rorick Podiatry, PC. Our doctor can provide the care you need to keep you pain-free and on your feet.
Obesity and Your Feet
People who are overweight are putting more pressure on their ankles, knees, and hips as well as their feet. This unfortunately can lead to variety of different issues.
Problems & Complications Stemming from Obesity
When the body is overweight, it tries to compensate by changing the way that it moves. An obese person may lean forward and put extra weight on the wrong part of the foot. This puts unnecessary stress on the feet.
Obese people are also more likely to develop type II diabetes which is a condition that causes a lot of foot problems. People with diabetes often don't feel the cuts and sores that they may have on their feet, which can lead to more complicated and severe issues.
Plantar fasciitis is another foot condition that can be caused by obesity. Plantar fasciitis is an inflammation of the tissue along the bottom of the foot, which causes pain and stiffness while walking and climbing stairs.
If you have any questions, please feel free to contact our office located in New York Mills, Utica, NY . We offer the newest diagnostic and treatment technologies for all your foot care needs.
Read more about Obesity and the Feet